Riverstead CanKC registered,
Bernese Mountain Dogs and Puppies
Nova Scotia, Canada.
and home of
Riverstead (non-profit)
Rescue/Adoption Home
RIVERSTEAD BERNESE MOUNTAIN DOGS
IS NOT ACCEPTING APPLICATIONS
AT THIS TIME
ALL FUTURE 2017 LITTERS
ARE SPOKEN FOR
As a Canadian Kennel Club registered breeder of Bernese Mountain Dog and an owner of Bernese Mountain Dogs since 1986; my priority here at Riverstead Bernese of Nova Scotia Canada is to maintain the health, movement, structure, longevity and superior temperament of Riverstead Bernese Mountain Dogs and their puppies. The dogs I use in my breeding program are carefully researched and are of top North American and International bloodlines. All appropriate certifications on the parents and ancestors are available for your viewing when you visit here at Riverstead Bernese of Nova Scotia. I take the placing of my Bernese puppies extremely seriously and only the best homes will do. I am a small kennel raising occasional litters. At Riverstead, puppies are born, and live in the home, there are no kennel dogs here at Riverstead. Pups are sold for $1,800.00 registered with the Canadian Kennel Club on a NON-BREEDING/co-ownership contract. Once dogs have been sexually altered, the registration will be transferred at seller's expense, to you as soul owner.
At eight weeks puppies are microchipped and receive all appropriate health checks, vaccines and are treated for any possible parasites for the third time. Puppies go home at nine weeks, with six weeks prepaid medical insurance through Petsecure, toys, leash, collar, and food.
I prefer to not give vaccines before the age of 12 weeks. I will discuss when you visit here at Riverstead the reasoning behind this, and what will be expected from you the buyer(s), to make sure the puppy is safe from contracting any diseases. If you feel unsure and would like your pup vaccinated at 8 weeks, then it will be done per your request.
Once you have your puppy at home you may have questions. I am here to help and support you. My Riverstead Bernese Mountain Dogs "owners" Facebook page is a place to find information. A place for you to come and ask questions, to be supported in all you do. All my puppy owners are invited to be members of this closed group. We share pictures, fun stories of life with a Berner and, important information on feeding, health, training, and anything else that you may have questions about.
Riverstead CanKC reg'd Bernese Mountain Dogs,
Quality Puppies, for Quality Homes.
Pictured below is Riverstead's Kindhearted Woman, "Suzie" and her two daughters Riverstead's You Baby "GiGi", and Riverstead's My Girl "Gracie".
Visit Riverstead Bernese Kennel page on facebook for updates, pictures, and much more.
You will also find there a link to the sire of the puppies.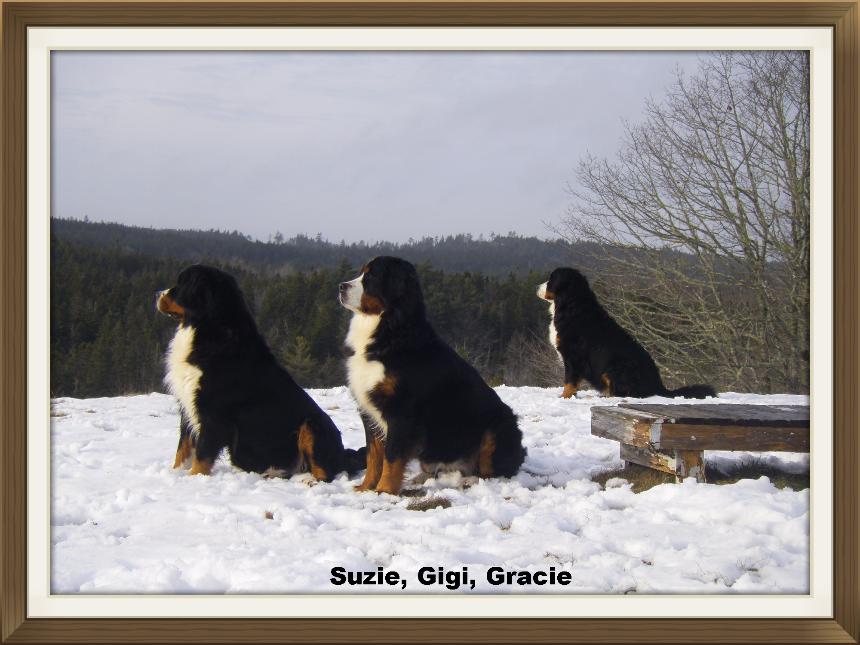 Purina Hall of Fame 2013 Inductee
Riverstead's Just The Way You R, Bella As the breeder of Bella, I am so proud to call her a Riverstead dog. I pride myself on breeding puppies with confident, outgoing, stable, temperaments. For many years Bernese breeders were willing to accept that the breed had a tendency toward shyness. I do not support this old attitude and as such strive to improve on the nature of the breed. My Riverstead dogs have larger than life personalities, and big hearts. A dog that is comfortable in it's own skin, is also comfortable in any situation, and as such is capable of acts of courage, and loyalty, like saving their owner from a burning building as Bella did. Watch Bella's touching story.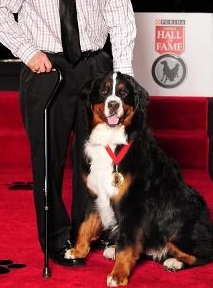 AS THE SAYING GOES..,
"WHERE DO YOU FIND A BERNER...?
ON YOUR FOOT"

Riverstead Bernese puppies of Nova Scotia are a joy to be with. Visit my channel on YouTube for more entertaining videos of my past litters. I take weekly videos, so future Puppy Peeps can share in the experience of watching the litter grow. Of course you are welcome to come and visit here at Riverstead as often as you like once the puppies are four weeks old. However, if traveling due to distance or weather makes that impossible, you can enjoy videos, and pictures at Riverstead Bernese Mountain Dog, (closed) FaceBook page.
CONTACT INFORMATION
(902)980-0230
To visit here at Riverstead I require that you book an appointment. Sorry no dropping in please.

No application will be approved until you have visited with me here at Riverstead. Some exceptions may be possible due to the distance required for you to travel here, or time of year.
Once the puppies are four weeks of age, you will be invited to visit here at Riverstead. The socialization is beneficially to their development, so come as often as you like.
I look forward to your visits, as do the pups.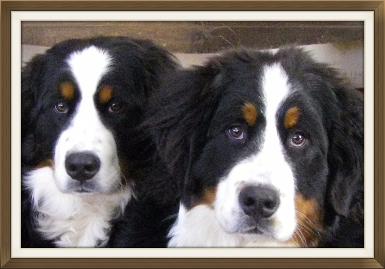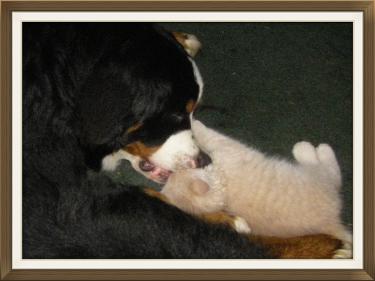 Did someone say chips...? Kiss me you fool
Qualifications
member in good standing with the Canadian Kennel Club and BMD club of Ontario
Testimonials
I maintain a "closed" Facebook group page, for my puppy owners to share pictures, and stories. I am constantly uploading information on health, exercise, and training in the files for your interest. As the breeder of Riverstead Bernese Mountain Dog puppies, I am always available to answer all your questions. I maintain my devotion and support for the life of your Riverstead Bernese Mountain Dog. At my Riverstead Bernese Mountain Dogs "group" Facebook page, you will meet many of my Puppy Peeps. This is a closed group for only Riverstead Puppy families.
I also maintain a facebook page, Riverstead Bernese Kennel, (see link button above) where you will find clearances, certifications, and pedigrees on all my dogs. Also see information on sires being used, expected whelping dates, and updated pictures of my dogs and their litters.
Two of the girls Gigi and Gracie from Suzie's M litter born 09/10/ 2013, stayed here with me at Riverstead, the other four puppies went to families that already own one of my dogs. This is a real tribute to my success as a breeder.
"It's right what they say... you can't live with just one"
Visit Berner-Garde and see all my dogs, their pedigrees and their certifications.